Kennesaw Chess Club map &directions
---
The Kennesaw Chess Club meets at the Kennesaw branch of the Cobb County Library almost every Saturday from 1:00 p.m. to 5:45 p.m., except holidays. Children under 7 require adult supervision.
---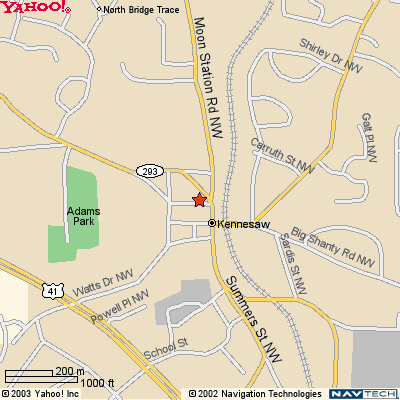 Map of 2250 Lewis St Nw
Kennesaw, GA 30144-2715
Directions
Directions to 2250 Lewis St Nw
Kennesaw, GA 30144-2715
If coming from I-575, exit at Chastain Rd. (exit 2) and go west until you cross I-75, at Chastain Rd. Continue west about 3 miles. Look for McCollum airport on the left -- if you reach US 41 you have gone too far. At the intersection of Chastain Rd. (McCollum Pkwy.) and Hwy 293 (Main Street), turn right (going north). Travel about 1 mile to downtown Kennesaw. Immediately past the downtown traffic light, look for historic markers on the right (this is where "The General" is kept) and a civil war store called "Wild Man's" on the left. Turn left immediately past Wild Man's. The Library is a single story brick building on the right.